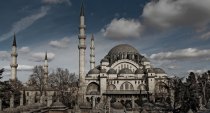 Hereby we would like to invite everybody to the guest lecture with the title Turkish Ottoman Architecture and Conservation in Turkey by Prof. Dr. Ayse Gulcin Kucukkaya from the Yeditepe University, Istanbul.
Date and place of the lecture: 15.11.2017, Wednesday at 19:30, room A019
WHAT IS VULCANUS IN JAPAN ?

The programme consists of industrial placements for EU / COSME* students. The whole programme takes place in Japan. It starts in September and ends in August of the following year in order to accommodate the academic year, in EU / COSME* countries.

Who pays what
This programme is financed by the EU-Japan Centre for Industrial Cooperation and the Japanese host company. The EU / COSME * students are awarded a grant (Yen 1.900.000) to cover the cost of travel to and from Japan and living expenses in Japan. There is no charge for the language course and seminar, and accommodation is provided free of charge during the course and seminar and the company traineeship.





To read more about the programme, click here.
The application deadline is: 20 January 2018
This year the Student Unions of the Faculty of Humanities and the Faculty of Engineering and Information Technology organize a cooking competition. We are waiting for teams with 5 to 10 members.
University of Pécs - Faculty of Engineering and Information Technology
Today with its 3,000 students, its several decades of experience, its renovated and extended campus, the Faculty of Engineering and Information Technology is one the most colourful institutions of Hungary's tertiary technical education and one of the prominent centres of the country's engineering life.The 8 basic training programmes cover technical, artistic and information technology related fields of study in the following branches: architecture, civil engineering, environmental engineering, electrical engineering, information technology and architectural design.Our higher level vocational training for producing television programmes is also popular. Our students can choose from 10 Master Degree programmes mainly in the fields of architecture, architectural design, civil engineering and information technology. Since September 2014 students could opt for undivided training in architecture, Architect Designer DLA and Architectural Engineering PhD, and from September 2015, IT Engineering BSc and MSc programmes, and a Civil Engineering BSc, Structural Engineering MSc programme will be available as English language programmes.
In September 2015 practice-oriented dual training programmes will be launched with participation from industries and companies within the BSc programmes of Architectural Engineering, Civil Engineering, Mechanical Engineering, Electrical Engineering, Information Technology Engineering and Environmental Engineering. For those graduates who already have a degree we offer 13 different postgraduate specialist training courses. We have 135 lecturers, 82 of them have a PhD or DLA degree and 29% have reached the qualification of habilitation. Several of our lecturers are Doctors of the Hungarian Academy, several lecturers have artistic awards, and three are members of the Hungarian Academy of Art, one is a member of the Hungarian Academy of Sciences, 13 lecturers are holders of a candidate degree and we have three full-time researchers. More than half of our lecturing staff is under the age of 50.
The refurbishment of the 20,000 m2 educational and research building complex was completed in 2007-2008 with an investment of 3.5 billion Hungarian forints. As part of the campus, the dormitory, which can accommodate 800 students, was renewed and double rooms with bathrooms were created. During the comprehensive refurbishment of the faculty buildings, classrooms were equipped with air conditioning and modern multimedia equipment. State-of-the-art instruments and equipment were installed in the labs adjacent to the main educational building.